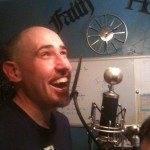 If you've followed us on Twitter (@bringdaddyback) or have Liked our Facebook page, then you were aware there were a few things in the works. Well, one of those things has now been completed thanks to my extremely talented cousin who has been writing his own songs and will have a CD out in roughly a month from now. I'm real excited about that and excited for him.
This project has been about two years in the making. This idea started shortly after this site began but life has a funny way of doing things. However, mommajulie disagrees. She believes that it is actually I that has a funny way of doing things. Nonetheless, it is done and we here at Bringing Daddy Back couldn't be more thrilled to give you our theme song: Bringing Daddy Back (based off Justin Timberlake's 'SexyBack').
Our official music video is in its conception stage at the moment, but do not worry. It too will come at the moment it is intended… or whenever we finish it, whichever comes first. If you enjoyed this and any of our other stuff, please take a moment and follow us on Twitter or Like our Facebook Page for all the latest news. Thank you for your support and we enjoy having fun with you.