"An a-mazing way to deal with change in your work and in your life"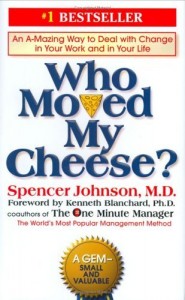 While this book doesn't pertain to daddies per say, we feel it's one of those must own books. It's usually used in a business setting but can easily be applied to the family as well, or really anything that involves some type of change.
Who Moved My Cheese? by Spencer Johnson, M.D. is one of our recommended readings. Spencer Johnson co-authored The One-Minute Manager with Ken Blanchard (which is another excellent book). Personally, if you find a book written by either Spencer Johnson, M.D. or Ken Blanchard (or even both), we think you should buy it immediately.
This very small book is easy to read and is also a quick read. The main story portion is only about 50 pages of large print, at least in my copy, with about 15 of those pages consisting of only "cheese hand-writings on the wall" – something you'll understand once you start reading. These are things that one of the four main characters learns along the way; in reality, it's probably the character that most readers will identify with most often.
[Possible Spoiler Alert]
I do not intend to give away any important details of the book but just in case your important details and my important details are not aligned, I will give the spoiler alert. The four characters consist of two mice – Sniff and Scurry – and two Littlepeople (essentially mouse-sized human types) – Hem and Haw. They are trapped in a maze in which they must travel through to find cheese. However, they must find The Cheese… with a capital C. The Cheese makes people happy and it's different for each person.
Throughout the story we learn that Cheese isn't necessarily a substance that is needed to keep you alive, but it is something that we learn to rely on. That is, until it's gone. (Insert scary music here) Dunt dunt dunnnn! Life will not stay the course. Life is not dependable; well, other than death and taxes of course. Change is inevitable so it's important that you are watching and waiting for that change to happen. That way you are prepared to properly deal with it. This book offers a fun way of seeing that need.
This book is easy to find locally or please feel free to check out our recommended readings and order through the link provided via Amazon.com. If you are dealing with any kind of change at the moment, whether it be through your job, your marriage, your kids, or whatever, this quick little story will definitely give you some alternatives to how you view those changes. Your attitude can directly affect your productivity.
Remember that just because something has worked in the past, doesn't necessarily mean it's going to be as successful in the future. If you read our recent post The Second Child, you'll realize it's something I should have learned a bit faster.
Who Moved My Cheese?
Spencer Johnson, M.D.
G.P. Putnam's Sons
New York
www.WhoMovedMyCheese.com