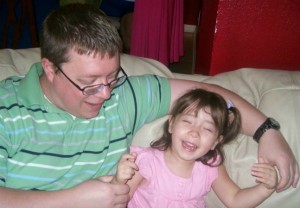 Mark Alexander has posted an interesting Essay over at The Patriot Post entitled "Who Needs a Father" that is right in line with the truth we have been espousing on this site and is also quite timely with Father's Day coming up this weekend.
The essay pays "tribute to the irreplaceable and inseparable institutions of marriage and fatherhood — and the importance of a father's love, discipline, provision and protection for his family." It also says a few plain spoken truths about the damage that daddy-less homes have caused in this country.
Below you will find an excerpt from the essay. I encourage you to read the entire essay, however, as there's plenty of good stuff packed in it.
In 295 B.C., Mencius wrote, "The root of the kingdom is in the state. The root of the state is in the family. The root of the family is in the person of its head."

When fathers do not take on their parental responsibilities, broken marriages and families are the result. These, in turn, lead to broken societies.

Thus, the failure of fatherhood has much more than mere social or cultural consequences; it is a menacing national security threat. The collective social pathology of the fatherless presents a great obstacle to Liberty and the survival of our republican form of government as outlined by our Constitution.

Father's Day should thus be a call to action. Indeed, the majority of social entropy afflicting our nation today originates in homes without fathers, which definition includes those without functioning or effective fathers.

Currently, almost 60 percent of black children, 32 percent of Hispanic children and 21 percent of white children live in single-parent homes. (See Bill Cosby's "Truth about Black America.") According to the CDC, DoJ, DHHS and the Bureau of the Census, children who live apart from their fathers account for 63 percent of teen suicides, 70 percent of juveniles in state-operated institutions, 71 percent of high-school dropouts, 75 percent of children in chemical-abuse centers, 80 percent of rapists, 85 percent of youths in prison, 85 percent of children who exhibit behavioral disorders, and 90 percent of homeless and runaway children. (When these children become "adults," the social consequences become even worse.)

Generationally, daughters who have been abandoned by their fathers are seven times more likely to have children as teenagers and 92 percent more likely to divorce.

A successful fatherhood begins with a healthy marriage. To be good fathers, we must first be good husbands.

I have been blessed with many mentors, including Dr. Jim Lee, director of Living Free ministries. Jim taught me that the Christian marriage paradigm is built on a foundation of five principles: "First, God is the creator of the marriage relationship; second, heterosexuality is God's pattern for marriage; third, monogamy is God's design for marriage; fourth, God's plan for marriage is for physical and spiritual unity; and fifth, marriage was designed to be permanent."

Concern about marital infidelity and the consequences for children are timeless. John Adams wrote in his diary on 2 June 1778, "The foundation of national morality must be laid in private families. … How is it possible that Children can have any just Sense of the sacred Obligations of Morality or Religion if, from their earliest Infancy, they learn their Mothers live in habitual Infidelity to their fathers, and their fathers in as constant Infidelity to their Mothers?"

I note here that while most fatherless homes are the result of neglect on the part of fathers, an increasing number of fatherless homes result from mothers who separate without reasonable grounds from the fathers of their children.

Fortunately, some young people reared by a single parent, or in critically dysfunctional or impoverished homes, overcame that impediment. Either they were blessed with a parent who, against all but insurmountable odds, instilled them with the values and virtues of good citizenship or, somewhere along the way, those children were lifted out of their misery by some other grace of God — often in the form of a significant mentor who modeled individual responsibility and good character.

However, the vast majority of children from homes without fathers are not so fortunate, as statistically confirmed above.