A little story about a father's sacrifice, a son's love, and a corn on the cob.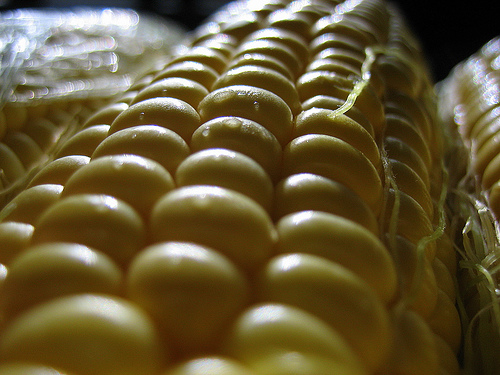 One Sunday afternoon a few years ago, my wife began to cook dinner while my firstborn son was watching tv and I was working on the computer.  It's a well-known fact (at least in my household) that I love me some corn on the cob.  It's what I call a fun food even though it takes like 20 minutes to pick all the corn skins from your teeth afterward.  Corn on the cob, it's what's for dinner!
But, I digress.
So my wife asked me how many I wanted because the ones she had to cook were half the size of normal cobs. So I'm thinking that since I'll be eating a full chicken breast topped with BBQ sauce, cheese, and bacon, a salad and some bread along with my corn that I should go light (I was still trying to watch my figure).  So I answered something along the lines of "One is fine." Plus, I felt like I was making it easier on my hard-working wife by asking her to cook less; although, it would have only taken about 2 seconds to put another cob in the steamer, that's really beside the point.
So it became dinner time. We gathered around the table and got our plates prepared and our palettes ready for food consumption. Matthew sung the prayer that he learned from daycare in a voice that my wife thinks is the sweetest in the history of the entire known universe. I looked at my plate and noticed the smallest corn on the cob that I had ever seen in the history of the entire known universe.  Inside my head I was thinking "No, no girlfriend. This ain't right.  I'm Daddy!"  What I opted to say was, "This is great honey."
I buttered my corn and added a few shakes of salt and pepper as my mouth began to water with anticipation. But alas, my corn on the cob would have to wait because I wanted to save it for last. My son went the opposite route and ate all his corn on the cob first.  At 3 and a half years old, it seemed quite a good feat for him to eat the whole thing, but then there was a problem. Like me, he wanted more corn on the cob than what was served.
"Can I have some more corn?"
Those words may forever haunt me. How could I deny my son his love of corn on the cob when I had one to give? Then again, I helped pay for the corn and I'm bigger and stronger, and no one can fault me for eating what was on my plate, I mean, that's what I was taught growing up. But, without further debate, I picked up my perfectly buttered and seasoned corn on the cob and placed it on my son's plate. It was time for my son to live my legacy and I was willing to do whatever it took to help him in that endeavor; yes, even sacrifice my lone corn on the cob. Without even realizing the great sacrifice that was made for him, my son smiled, pointed to his newly found corn on the cob and said to his mother, "I got corn." He was just about to take a bite, but then he placed the very corn on the cob that I had given him back on my plate.  My heart was filled with glee and my fatherly pride swelled up inside me as he uttered the greatest sentence on the face of the earth (at least on that day).
"You can have it."
Victory! Victory! I truly believe that my son noticed that momma had corn and he had corn, but daddy had no corn at all anymore. That, my friends, is how one father sacrificed for his son because he loved him and a son's love for his father helped him return the favor. Yes, the Force is strong in that one. Job well done, daddyjeff, job well done.
This is one of my favorite stories of my oldest and there are many more that I will probably get to share with you.  However, with this in mind I wanted to offer you this option.  Send us your favorite story of your children as a father or your favorite story of your daddy and we'll share it for you on this site.  Just answer any of the following questions:
My favorite memory of (child/ daddy) is…

It was really funny when (child/ daddy)…

(Child/ Daddy) showed me he/ she loved me when…

My favorite story of (child/ daddy) is…
As with any family friendly site, keep the stories clean.  We will correct any obvious typos for you but other than that, approved stories will be selected and posted for you as is.  We appreciate your support and hope that the upcoming Father's Day offers encouragement for your continued commitment to your children.