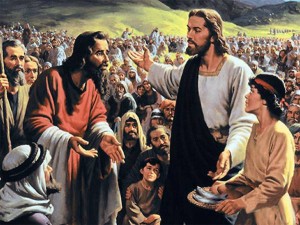 It would be a huge mistake on our part if we failed to draw lessons and inspiration from the greatest collection of books ever written. The Bible no doubt offers timeless lessons about parenting and basic manhood that we will definitely explore and take advantage of. Some lessons are directly about being a parent or a father, while others you'll find take an indirect path but both have real world application such as this one that I've chosen today.
It's a well known story about Jesus performing a miracle in order to simply feed dinner to thousands of people. We never really find out how He did it, just why. He saw a need and had compassion and went above and beyond what anyone would have ever expected of Him. The following is copied and pasted from Bible.com – Matthew 14:13-21:
Five Thousand Fed

13Now when Jesus heard about John, He withdrew from there in a boat to a secluded place by Himself; and when the people heard of this, they followed Him on foot from the cities.
14When He went ashore, He saw a large crowd, and felt compassion for them and healed their sick.
15When it was evening, the disciples came to Him and said, "This place is desolate and the hour is already late; so send the crowds away, that they may go into the villages and buy food for themselves."
16But Jesus said to them, "They do not need to go away; you give them something to eat!"
17They said to Him, "We have here only five loaves and two fish."
18And He said, "Bring them here to Me."
19Ordering the people to sit down on the grass, He took the five loaves and the two fish, and looking up toward heaven, He blessed the food, and breaking the loaves He gave them to the disciples, and the disciples gave them to the crowds,
20and they all ate and were satisfied. They picked up what was left over of the broken pieces, twelve full baskets.
21There were about five thousand men who ate, besides women and children.
Now I know you're probably asking what in the world does this story have to do with being a Daddy. Well, you're in luck because I'm going to tell you. See how well this works out. (Of course, it's always easy to write when I give you the question you should ask and then answer it.) Nonetheless, my focus is really on 4, maybe 3, words from verse 17.
"We have here only…"
Daddyjason wrote a pretty good article similar to this thought not too long ago titled – What Makes a Daddy Fun? "We have here only" or in other words, "We only have…" Being a good Daddy can be overwhelming and we can feel that we don't have all the right tools. "But God, I only have… (fill in the blank)." But isn't that all that God asks? To give simply what we have? He's not going to ask us to give what we do not have and even if one day He does decide to do just that, He's going to make sure there is a way we can obtain it.
Our children are no different. Well, maybe a little different. They are not divine by any means and they have no way to obtain things without our help but ultimately they need only what we have. For most of us who have little buying power, what we have is without matter but matters a ton. What I mean by this is that the gifts that we can give our children that will matter the most as they grow into adults is going to be the intangibles such as: our love, our time, security and protection, purpose, and self-esteem. While they will want everything in a well designed commercial or well-placed ad, those things will eventually break down and be thrown away; on the other hand, the intangible gifts will not perish.
I'm reminded of a powerful story from an unknown author. One day a father was locking up the doors for the night and went to check on his children to make sure they were ready for bed. His son's door was slightly cracked and he saw him knelt beside his bed with his head down. He overheard his son praying, "Dear God, please help me to grow up to be just like my Daddy." The father immediately went to his own bedside fighting the tears in his eyes and prayed his own prayer, "Oh dear God, please help me to be the man my son thinks I am."
You don't have to do great things to be a great man or a great daddy. You just need to be grateful that God chose you to be their daddy. And be grateful to give God and your children only what you have to give.