Jeremiah's Call and Commission

4 Now the word of the LORD came to me saying,
5 "Before I formed you in the womb I knew you,
And before you were born I consecrated you;
I have appointed you a prophet to the nations."
6 Then I said, "Alas, Lord GOD!
Behold, I do not know how to speak,
Because I am a youth."
7 But the LORD said to me,
"Do not say, 'I am a youth,'
Because everywhere I send you, you shall go,
And all that I command you, you shall speak.
8 "Do not be afraid of them,
For I am with you to deliver you," declares the LORD.

Jeremiah 1:4-8 (NASB)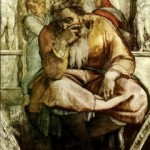 It is not my intention to use these verses out of context necessarily. I am acutely aware that God is speaking directly to Jeremiah here about being a prophet to the kings and people of Judah so that they repent and turn away from their wickedness and turn back to the One True God. I'm aware that this is more a record of a particular event rather than a teaching lesson (i.e., one of Jesus' parables).
However, there are concepts here that I think a Daddy can gain hope in. First, God knew us even before we were formed in the womb. I don't believe that God was only able to know Jeremiah before his birth. I think he was simply reiterating to Jeremiah a small scope of his awesomeness. He knew us all. There were personalities and attributes given to us by God that would one day prepare us for daddyhood. Obviously not all of us were consecrated and appointed to be prophets to leaders of nations, but we were all purposed to follow God's instruction by being faithful spouses, honest employees, and God-fearing parents.
Second, age is not an excuse. A daddy can love his children and desire to be a positive role model at any point in his life. Children can understand mistakes, but children will never understand why their daddy didn't love them. I know there have been times when I felt stupid as a parent. I've wondered if I handled certain situations correctly and I blamed my youth and inexperience for any wrongdoing. While those appear to be valid justifications for missteps, it's important to keep in mind the purpose of parenting. As far as I'm concerned, when all is said and done, I've fulfilled my ultimate goal as a parent when both of my boys have been born again through their acceptance of Jesus Christ as their Lord and Savior.
If your heart is in the right place, your kids will know it and there will always be hope as we find later in the book of Jeremiah.
Jeremiah 29:11: (NASB)
11 For I know the plans that I have for you,' declares the LORD, 'plans for welfare and not for calamity to give you a future and a hope.